On November 6th, 2021, the Sisters of the Holy Family began a year-long celebration commemorating the 150th anniversary of their founding. During this year, we will give thanks for the many blessings we have received. Among those blessings is our Family of Friends. We will hold you all in our prayers during this anniversary year. If you have any intention that you would like us to add to our daily prayers, contact us and let us know. May God bless you and your family with peace and joy today and every day of this year.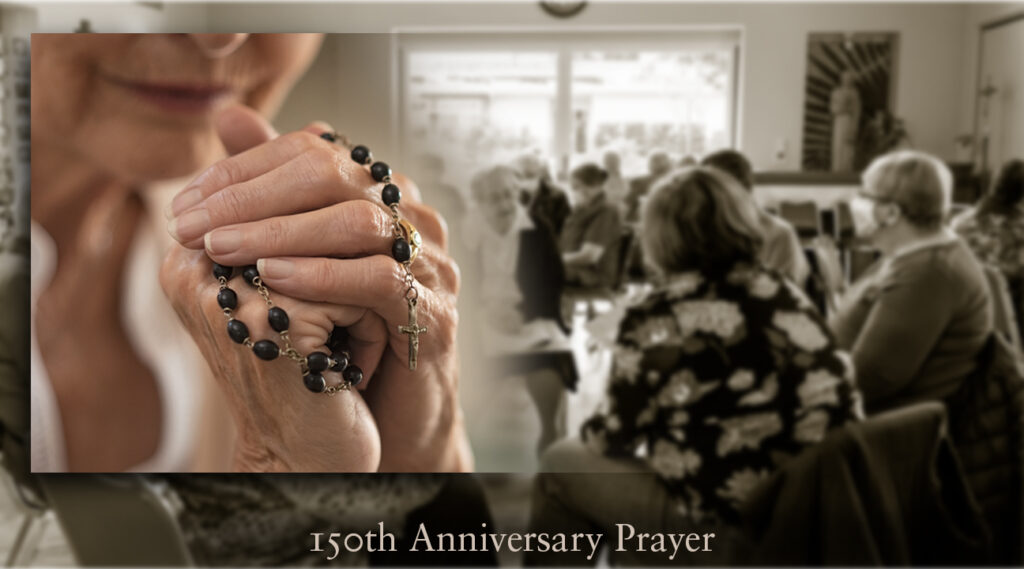 God of the universe and of love,
We are filled with deep gratitude for 150 years as Sisters of the Holy Family in service to you and your people, especially children and families.
We stand on the shoulders of our founders, Mother Dolores Armer and Father John Joseph Prendergast and the women who have gone before us.
We have been blessed as we walk, together, with our Associates and Family of Friends who continue to support us in our work and with those who work with us side-by-side.
We pray with our founders and those who have gone before us for the needs of those we serve and for our brothers and sisters throughout the world.
We pray for peace and justice with hearts filled with gratitude and love.
We pray all this through Jesus the Christ who came for all of us.
Then and Now
The Lessons of February
February brings us Candlemas, Valentines and Black History Month. With these come powerful reminders to bring the Light of Christ's teachings into the darkness of human confusion; to bring the love and compassion of Christ into relationships; and to bring justice and equity into social systems that have denied fundamental rights to large numbers of Americans.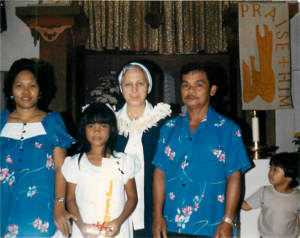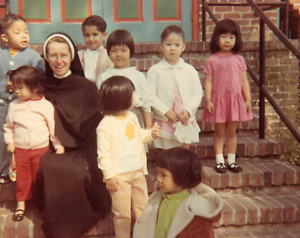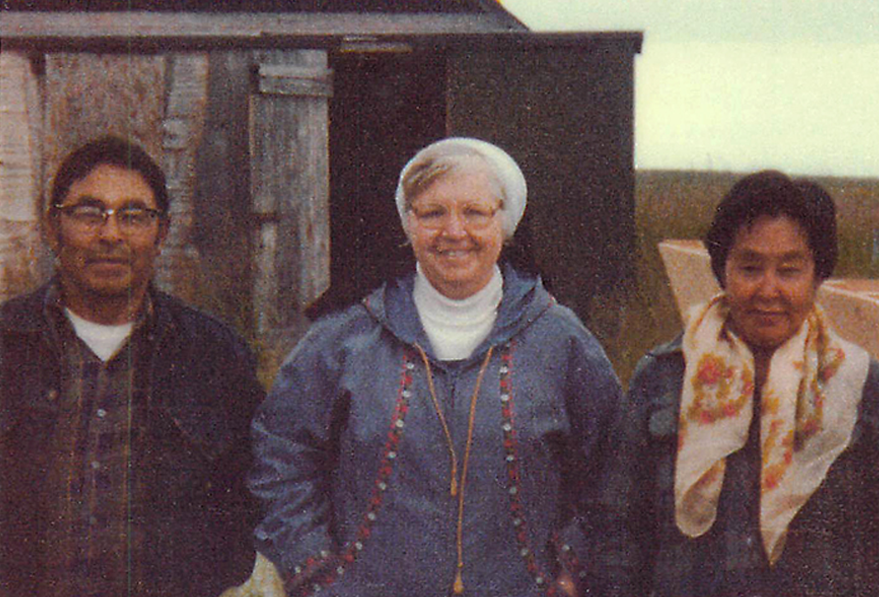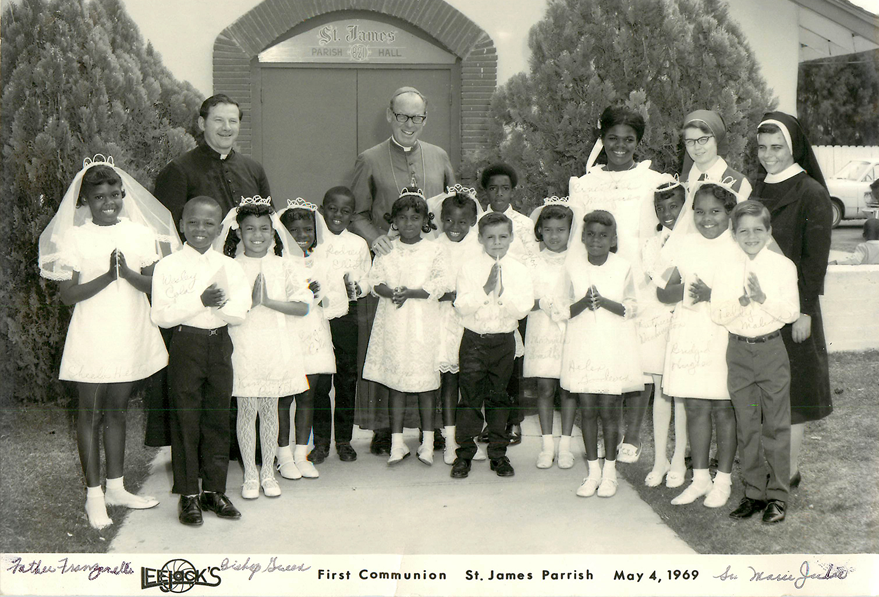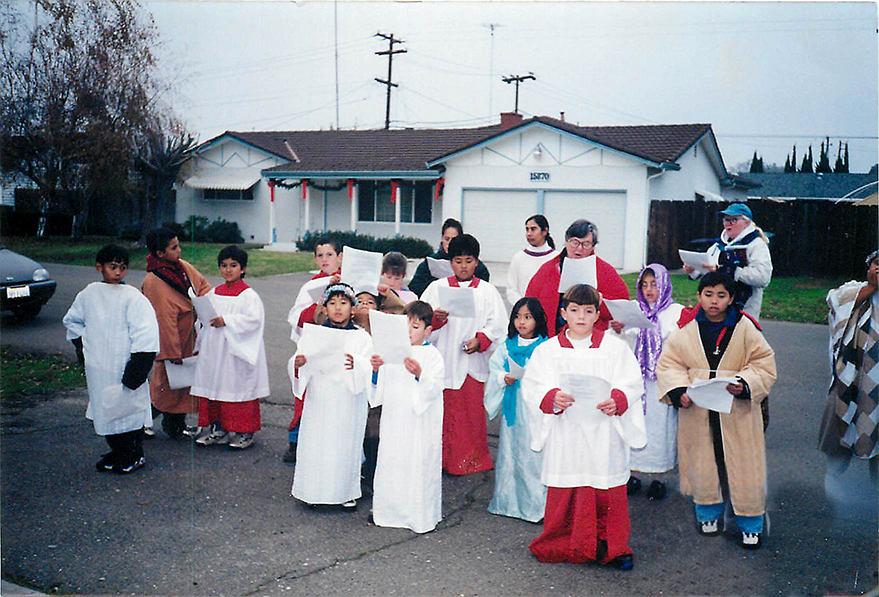 Then (from top row, left): Sister Charleen O'Brien among the Chinese children of Fresno, CA; Hawaiian 1st Communion family with Sister Yolanda de Francesco; In Alaska, a First Nations couple with Sister Angelina Dutra; Hispanic Christmas caroling – Sister Gladys Guenther, Lathrop, CA; Kmhmu' and Laotian gathering in Fresno – Sister Joan Litch; Sister Marie Julie Casattas serving St. James parish, Las Vegas, NV
Recently, at the Motherhouse, we have initiated a series of workshops on diversity, equity and inclusivity, remembering our ministries among diverse groups, beginning to see where improvements need to be made in effective responses to questions of equity today. It has become clear that reparation needs to be made for the purposeful or unwitting support of oppression and injustice toward people of color by the once dominant culture of this country.
Surrounding these paragraphs are a few pictures from past and present — some of the diverse groups with whom the Sisters have ministered.
Now (at right): Recreation Therapist Vy Nguyen and Sister Carmen Baca celebrate Lunar New Year in the cottages.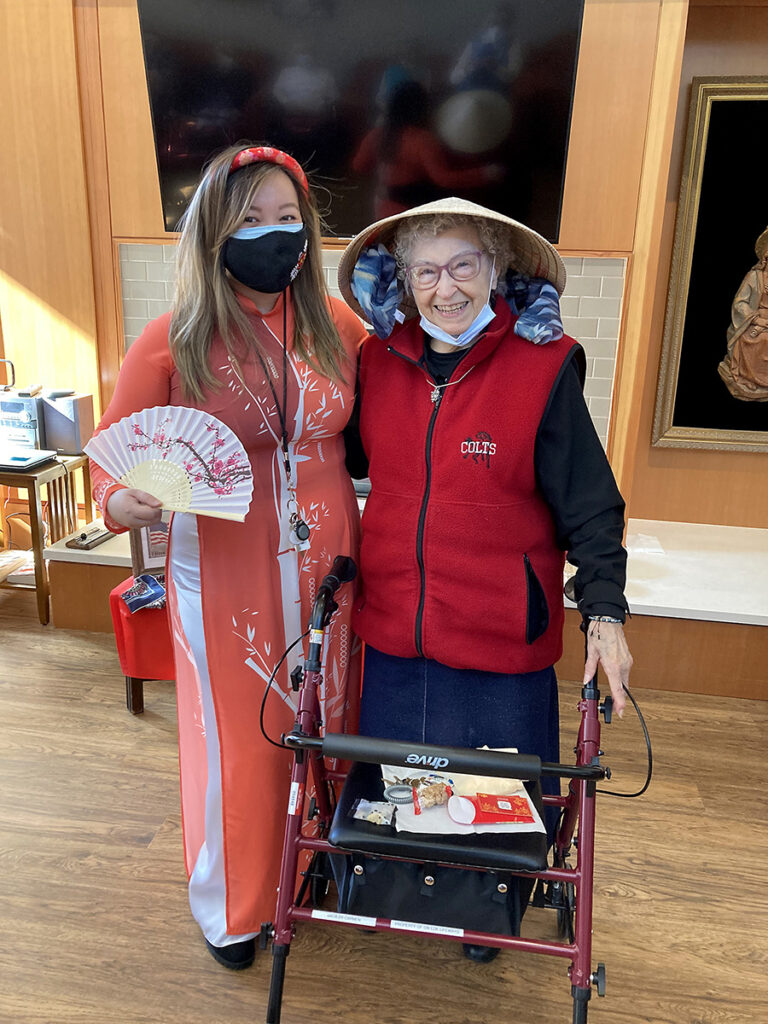 An Associate's Perspective: The Beginnings
Groups associated with religious orders do not necessarily have to wait for a structure before beginning their association. Indeed, organizational rules and constraints may inhibit the work of the Spirit in the formation of a successful spiritual support group.
Such a group is a safe haven in which to pray, let down one's guard, be challenged, laugh, cry, and be angry. That has been the experience of the Holy Family Associates in Rapid City, South Dakota.
Out of a mutual need, several Rapid City women were drawn together in 1982 for prayer, support, and community. The group coalesced around Sister Jacinta Fiebig, a visionary herself, who brought to her mission in South Dakota the vision of Lizzie Armer – to minister to the lonely and the forgotten.
From that mutual craving for spiritual growth and spiritual intimacy evolved a prayer and support group that continues today. Members bring to the group a variety of personal interests and occupations. We are connected to one another and to the Church by our specific ministries within the Church. We each bring the talents with which we have been gifted for the common good of the Church community. The thread that links us all is love for God, for his Church, and for each other.
In addition, we bring diverse lifestyles, which include being married, widowed, divorced and single. The group now includes a single male who has chosen a celibate lifestyle, and who has found associates to be an appropriate support system. In addition to his catechetical work, he has learned to use God-given materials around him to nurture others with his artistic talents.
Ministries performed by individual members of the group include visiting the homebound, catechesis, editing the Catholic newspaper, religious education, food pantry, counseling, teaching, nurturing, retreat work, and spiritual direction.
There was a concern when Sister Jacinta left in 1988 to return to Mission San Jose for her new ministry to those with AIDS/ARC, that the spirit holding the association together would leave with her. That has not been so. The charism of the Sisters of the Holy Family went with her, but it remained with the group also.
In addition, Sister Jacinta is still here in many ways. She is with us through letters, tapes, conference calls and prayer. Her dream to bring others into community with the Lord, with the Church, and with herself lives on in Rapid City.
We look forward with enthusiasm to continuing our input into the task force on associate membership, and to the plans that may develop from that group. We continue to pray for spiritual guidance for ourselves and for the Sisters of the Holy Family as preparations continue for Homecoming 1989.
Present members of our group are Pat Petit, Pat Blesener, Margaret Adel, Eileen Sullivan Rotert, and new members Sherry Jackson and David Reinders.
Written by Eileen Sullivan Rotert who made her covenant on June 29, 1991 with the first group of Holy Family Associates. I believe this article was printed in Update before Homecoming 1989.
This is a Great Day!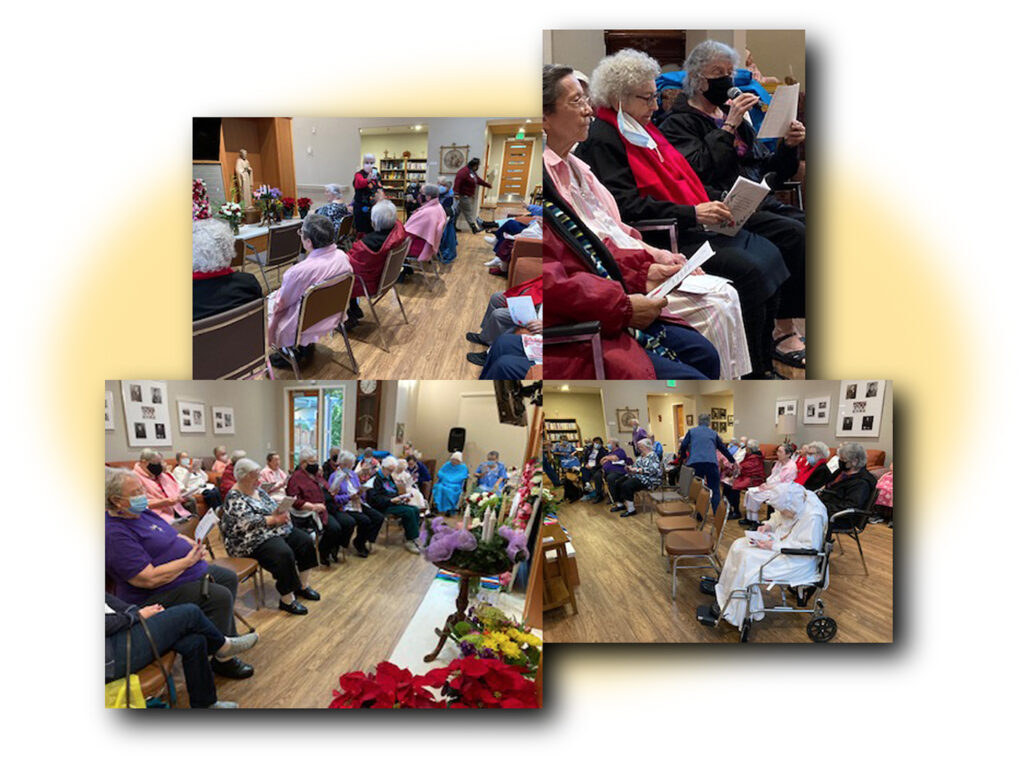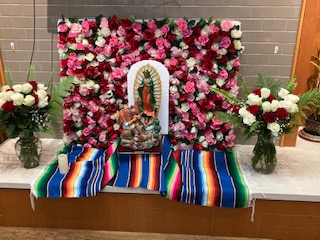 Our Lady of Guadalupe is Queen of the Americas and, as we celebrate her feast this month, the Sisters of the Holy Family remember with gratitude and amazement all of the Sisters of Mexican parentage who have blessed our community with their presence. We recall their labors of love, their wonderful ministering to hundreds of families in the Spanish speaking areas of California, Nevada, Texas and beyond. The Motherhouse Sisters gather for early morning greetings sung to our Lady and share pan dulce (Mexican sweet bread) and chocolate to begin the day of celebration. The picture of Our Lady holds a prominent place in the cottages and Juan Diego, the indigenous seer of the story is honored as well. May the smiles of Our Lady, her Divine Son and St. Juan Diego descend upon all of us. And may God be thanked for the miracle of Guadalupe and the missionary hearts of all our Hispanic Sisters.